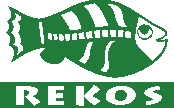 Rekos es una empresa mayorista de artículos de regalo con motivos de pesca y caza en el ámbito de la Unión Europea.
Los artículos de regalo Rekos son ideales para los pescadores y cazadores, amantes de los peces o simplemente para aquellos que buscan un regalo diferente y atractivo. Llamativos marcos de fotos, llaveros de carrete que giran, vistosos cojines, polos y sudaderas bordados: Rekos tiene los regalos más originales.
Los productos son habitualmente utilizados también para el montaje de trofeos deportivos y regalos de empresa.
Rekos is a company dedicated to the wholesaling of fishing and hunting themed gifts in Europe.
Rekos gift items are ideal for anglers, fish enthusiasts, hunters or simply those looking for a different kind of present. Eye catching photo frames, spinning reel key chains, realistic fish pillows, embroidered shirts: Rekos has the best looking gifts.
The products are often used for the mounting of sports trophies and companies' promotional materials.
El logotipo de la empresa se inspiró en este hermoso mosaico encontrado en las ruinas de Pompeya. Aquí lo tenemos representado en formato de tabla HTML.
Our company logo was inspired by beautiful mosaic found at the Pompeii ruins. It can be seen above represented in HTML table format.
© Copyright 2002-2009 Rekos - Todos los derechos Reservados. All rights reserved